September is upon us. Contest busy season is about to begin. Are your entries ready?
Let's get ready to contest with a critique to prepare you for the ACFW First Impressions Contest. (Submit a back-cover copy type blurb of 200 words or less AND the first five pages of the manuscript.) Two winners.
And we'll give a copy of Debby Giusti's September, Love Inspired Suspense, The Soldier's Sister (Kindle or Paperback) to one reader.
Comment today for a chance. Winner announced in the Weekend Edition.
Published Author Contests
The 2013 Lyra Awards are designed to find and promote the best in independent fiction. The contest is open to all independently published eBooks released in 2013. 12 categories. Deadline is December 31, 2013.
Published Authors! Be prepared. The 2014 RITA Awards are coming! See the RWA website for the new rules.
Unpublished Author Contests
2013 Joyce Henderson Contest (formerly Hold Me! Thrill Me!). Deadline September 1, 2013. Submit the first 20 pages. Need not be RWA member.
Historical: Alicia Condon, Kensington
Young Adult: Annette Pollert, Simon and Schuster
Contemporary: Sue Grimshaw, Random House
Paranormal: Leslie Wainger, Harlequin
Suspense: Rochelle D. French, Entangled Publishing
Hot Prospects Contest. Deadline September 1, 2013.Eligibility: The Hot Prospects Contest is open to any work uncontracted and unpublished at the time of entry. Enter: 3-5-page synopsis and up to the first 25 pages of story (30 pages max). Entry or synopsis may be shorter, but neither may be longer than specified.

Categories/Judges: Trained judges for preliminary round, Editors and Agents for final round.

Historical/Regency
Editor – Esi Sogah - Senior Editor Kensington
Editor – Holly Blanck – St. Martins Press

Fantasy, Futuristic & Paranormal
Assistant Editor – Kelly Quinn, Tor
Assistant Editor – Kristine Swartz, The Berkley Publishing Group

Romantic Suspense
Editor – Lauren Plude – Editorial Assistant Grand Central Publishing
Editor – Tera Kleinfelter - Samhain

Contemporary Long/Single Title
Editor – Deborah Werksman – Sourcebooks, Inc
Editor – Sue Grimshaw – Random House

Series Contemporary
Editor - Johanna Raisanen – Harlequin Associate Editor
Editor – Leanne Morgena – Senior Editor, Sweetheart Rose, The Wild Rose Press
Four Seasons Award. Deadline September 1, 2013. Entries must be the first 25 pages of your manuscript in RTF (rich text format). Please do NOT include a synopsis.

Single Title Contemporary
Editor: Michelle Venditti, MIRA
Agent: Scott Eagan, Greyhaus Literary Agency

Paranormal
Editor: Kristine Swartz, Berkley Publishing
Agent: Michelle Grajkowski, Three Seas Literary Agency

Young Adult
Editor: Leah Hultenschmidt, Fire, Casablanca
Agent: Anita Mumm, Nelson Literary Agency

Romantic Suspense
Editor: Dana Hamilton, Harlequin Intrigue
Agent Jenny Bent, The Bent Agency

Inspirational
Editor: Elizabeth Mazer, Harlequin Love Inspired
Agent: Amanda Luedke, MacGregor Literary.

Historical
Editor: Tessa Woodward, Avon.
Agent: Jita Fumich, Folio Literary
Fiction from the Heartland. Deadline September 2, 2013. Entry consists of the first 10,000 words, including any prologue and synopsis. SYNOPSIS IS REQUIRED.

Category Romance: Wanda Ottewell, Harlequin
Contemporary Single Title: Kate Dresser, Harlequin
Historical: Leah Hultenschmidt, Sourcebooks
Romantic Suspense: Patience Bloom, Harlequin
Paranormal: Esi Sogah, Kensington
Erotic Romance: Leis Pederson, Berkeley
Young Adult Romance/New Adult Romance:Karen Grove, Entangled
Inspirational: David Long, Bethany House

Agents
Shira Hoffman, McIntosh and Otis
Margaret Bail, Inklings Literary Agency
Laura Bradford, Bradford Literary Agency
Deidre Knight, The Knight Agency
Nicole Resciniti, Seymour Agency
Gateway to the Best. Deadline September 6, 2013.
Grand prize $100 and full critique by a published author. Entry consists of the first 7,000 words.
Single Title/Contemporary Series - Katherine Pelz, Editor, Berkley

Historical - Esi Sogah, Editor, Kensignton

Paranormal - Junessa Viloria, Random House

Romantic Suspense - Patience Bloom, Harlequin

Young Adult - Stacey Barney, Penguin Putnam
Melody of Love. Deadline September 7, 2013. Entry consists of manuscript's first 25 (or fewer) pages, no synopsis,

Author may be unpublished or published, but manuscript being entered cannot have been published and cannot be currently contracted to be published via any means at any time, including self or subsidy publishing.

Manuscript should be a romance or romantic elements novel of 40,000 words or more.

CONTEMPORARY judged by Agent Pamela Harty of The Knight Agency

HISTORICAL judged by Editor Kerri Buckley of Carina Press

PARANORMAL judged by Editor Candace Havens of Entangled Publishing

YOUNG ADULT judged by Editor Heather Howland of Entangled Publishing

We welcome entries in the optional sub-genres of Romantic Elements, Erotic, Inspirational, and New Adult
ACFW First Impressions Contest.TIMELINE: The contest will begin September 25, 2013 at 8:00 AM central time. All contest entries and contest fees must be received by 4:00 PM central time on November 1, 2013.. Submit a back-cover copy type blurb of 200 words or less AND the first five pages of the manuscript. Contemporary, Mystery/Suspense/Thriller, Childrens/YA, Speculative. Finalist judges are not listed on the site.
Launching a Star. Deadline September 15, 2013.
Entry consists of up to the first fifteen pages of an unpublished manuscript (not published in any form). Contestants may include a Prologue (if one exists) as long as the total submission does not exceed fifteen pages. Entry cap of 150.
Final round judges for Launching a Star Contest

Single Title (including WF) Editor Gwen Hayes, Entangled Publishing; Agent Jill Marsal, Marsal Lyon Literary Agency

General Paranormal Editor Angela James, Carina Press; Agent TBA

Futuristic / Fantasy Editor Rhonda Helms, Carina Press; Agent Deidre Knight, Knight Agency

Historical Editor Emilia Pisani, Simon & Schuster; Agent TBA

Series Contemporary Editor Laura Barth, Harlequin American/Harlequin Blaze;
Agent Jessica Alvarez, Bookends

Romantic Suspense Editor Lizzie Poteet, St. Martin's Press; Agent TBA

Inspirational Editor Raela Schoenherr, Bethany House; Agent Nicole Resciniti,
The Seymour Agency

Young Adult Editor Kristin Daly Rens, Harper Collins; Agent Elaine Spencer,
Knight Agency
The Suzannah. Deadline October 1, 2013. $300 cash prize to winner. No categories. Entry should be a maximum of 7,200 words, including synopsis. Open to published and unpublished authors. Capped at 120 entries.

All six finalists will have their entries evaluated by the full panel of agents and editors. Our 2013 panel of final round judges includes:

Kerri Buckley, Editor, Carina Press
Piya Campana, Editor, Harlequin Superromance
Katherine Pelz, Editor, Berkley
Maria Carvainis, Literary Agent, Maria Carvainis Agency
Melissa Jeglinski, Literary Agent, The Knight Agency
Stefanie Lieberman, Literary Agent, Janklow and Nesbit
Other Contests
The Family Circle 2013 Fiction Writing Contest. Deadline September 16, 2013. Submit an original (written by entrant), fictional short story of no more than 2,500 words (typed, double-spaced and page numbered on 8-1/2 x 11 paper), including your full name, mailing address, daytime telephone number (including area code) and e-mail address (optional) on each page by mailing story in an envelope with proper postage affixed to: Family Circle Fiction Writing Contest.Grand Prize (1): A prize package including a check in the amount of $1,000.00.
Past Loves Day Story Contest. Deadline September, 17, 2013. 700 words or less. Cash prizes.Nearly everyone has memories of a former sweetheart. Write your true story of an earlier love, in no more than 700 words. Tell us about someone whose memory brings a smile or a tear, or both.
The Sixth Annual, Real Simple, Life Lessons Essay Contest.
Maybe, in the course of your life, you've had an Erin Brockovich moment: say, the time you stood up to a bully in second grade, or the day you ended a long-standing friendship that had turned toxic. Or maybe your acts of courage have been less dramatic but no less powerful: moving to a new country. Daring to fall in love a second time around. Leaving a settled career to embark on a risky new venture. Whatever your story, share it with us.

Enter Real Simple's sixth annual Life Lessons Essay Contest and you could have your essay published in Real Simple and receive a prize of $3,000.
To enter, send your typed, double-spaced submission (1,500 words maximum, preferably in a Microsoft Word document) to lifelessons@realsimple.com. Deadline September 19.
Writing Contest in Honor of Elaine Kaufman. From now until October 15, 2013, writers can submit a short story, essay or novel excerpt to the Table 4 Writers Foundation's second annual writing competition. Ten dollar entry fee. (From GalleyCat)
The September Contest Diva is Susan Mason
2013 Fab 5 Contest — 3rd Place — Historical Romance
2013 ACFW Genesis Semi-Finalist —Historical Romance
2012 ACFW Genesis Semi-Finalist— Historical Romance
2011 ACFW Genesis Semi-Finalist — Contemporary Romance
2012 Great Expectation Contest — 2nd Place — Historical Romance
2010 Touched By Love — 2nd Place — Short Contemporary
2008 Golden Pen Finalist — 2nd Place Contemporary Romance
2008 Golden Heart Finalist — Inspirational Contemporary Romance
Hi everyone. I write contemporary and historical Inspirational Romance. Over the past eight or nine years, I have entered many contests. My newbie mistake (or maybe not such a mistake after all) was entering the Golden Heart contest as a GREEN writer. I didn't realize that you get zero feedback from that contest— only a number, like 3.2 — which didn't mean much to me. But somehow, magically, in 2008, I became a finalist in the Inspirational category of the Golden Heart. This amazing feat, which I was oblivious about at the time, became the door that opened my life to the amazing Seekers and a whole host of other on-line friends who wrote similar stories to me. It eventually led to me joining ACFW — an amazingly supportive group for Christian writers of all genres.

Over the years, I've finaled in various contests, such as the Golden Pen, Touched By Love, the Genesis, and Great Expectations among others, and have received requests from editors and agents. Though nothing much ever came of these, (oh, there was the $20 prize from one!), each experience was a nugget of gold to me on my writing journey. Most times these affirming finals happened when I was about to throw in the towel. I took it as a sign that God was encouraging me to continue my quest!

Now I'm much more selective as to which contests I enter and usually it's because I'm targeting a certain agent or editor that I would like to have read my work. I've learned that judging is extremely subjective and I try very hard not to take offense when a judge doesn't care for my work.

I'm still constantly learning and revising my work, but one day I know it will all come to fruition—all in God's perfect timing. I heartily advise writers to enter contests for good feedback on your work—both positive & negative!

I wish all you writers out there the best of luck! Work hard and never give up hope! Just look at the wonderful Seekerville women to find your inspiration!

Cheers,
Sue Mason
COMING UP!
For the THIRD YEAR, Seekerville will again be offering entry fee reimbursement to the 2014 Golden Heart Awards. With a twist!~This year we are narrowing that to the Inspirational Category entry only in an effort to keep the category open. And we are offering TWO reimbursements of the entry fee.
This opportunity is open from the entry date through to the Golden Heart deadline.
Send proof of entry to the Seekerville email address (may send multiple proofs if you enter multiple times in the inspy category). Winner will be announced in January 2014.

2014 RWA Golden Heart Awards.
Please note the opening date for the Golden Heart is not posted yet. Last year's contest opened on November 15 (but the deadline was in January!) so keep your eyes on the RWA site for more info.
This contest requires a full manuscript. There is no feedback. The Golden Heart contest is open to RWA members only. The entry fee is $50; entries must be submitted to RWA's contest site no later than 5 p.m. CT, Dec. 13, 2013. The Golden Heart contest is limited to 1,200 paid entries.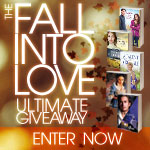 Seekerville is a sponsor of the Bethany House Fall Into Love Contest. Plus, we are delighted to share that Jones House Creative (the genius behind the contest, will be guesting in Seekerville next month!
That's it for this month. Now go forth and contest.
Tina Radcliffe is a mild mannered hermit who writes Inspirational romance for Harlequin Love Inspired as Tina Radcliffe and romantic comedy as Tina Russo. You can find her at www.tinaradcliffe.com and www.tinarusso.com.
And keep your eye on the newsstands. Her next short romantic fiction for Woman's World will be available in the September 29, on-sale issue.