Welcome to the October 2013 Contest Update.
Pardon me while I stroll down memory lane.
The very first Contest Update debuted February 5, 2008. Over five years ago. That's a lot of contests. At that time, the majority of the Seekers were still unpublished contest divas. Since then we've published 69 contest updates in Seekerville.
In honor of divas past and present, and our upcoming sixth year birthday celebration, today
we're giving away a box of great reads to one commenter and since there are several more short story contests in this edition, we'll do another short story contest critique (max 7 pages) and a First Impressions Contest critique. Please mention if you are up for a critique.
Time doesn't stand still, and you aren't getting any younger! Tell us your contest plans.
Attention all Readers not Writers. The 2013 National Readers Choice Awards is now accepting applications for reader judges. Apply Here.
Published Authors
The 2013 Lyra Awards are designed to find and promote the best in independent fiction. The contest is open to all independently published eBooks released in 2013. 12 categories. Deadline is December 31, 2013.
The 2013 National Readers Choice Awards opens October 1st!
Published Authors! Be prepared. The 2014 RITA Awards are coming! See the RWA website for the new rules.
Unpublished Authors
ACFW First Impressions Contest.TIMELINE: The contest will begin September 25, 2013 at 8:00 AM central time. All contest entries and contest fees must be received by 4:00 PM central time on November 1, 2013.. Submit a back-cover copy type blurb of 200 words or less AND the first five pages of the manuscript. Contemporary, Mystery/Suspense/Thriller, Childrens/YA, Speculative. Finalist judges are not listed on the site.
The Suzannah. Deadline October 1, 2013. $300 cash prize to winner. No categories. Entry should be a maximum of 7,200 words, including synopsis. Open to published and unpublished authors. Capped at 120 entries.

All six finalists will have their entries evaluated by the full panel of agents and editors. Our 2013 panel of final round judges includes:

Kerri Buckley, Editor, Carina Press
Piya Campana, Editor, Harlequin Superromance
Katherine Pelz, Editor, Berkley
Maria Carvainis, Literary Agent, Maria Carvainis Agency
Melissa Jeglinski, Literary Agent, The Knight Agency
Stefanie Lieberman, Literary Agent, Janklow and Nesbit
The Emily. Deadline October 7. Limit to 200 entries. First 5,600 words,end on a hook. No synopsis.
Contemporary Single Title:
Agent ~ Beth Campbell, Bookends, LLC
Editor ~ Holly Ingraham, Associate Editor, St. Martin's Press
Contemporary Series:
Agent ~ Cori Deyoe, 3 Seas Literary Agency
Editor ~ Karen Reid, Associate Editor, Harlequin
Fantasy, Futuristic, and Paranormal:
Agent ~ Sara Megibow, The Nelson Agency
Editor ~ Kate Seaver, Senior Editor, Berkley Publishing, Penguin Group
Historical:
Agent ~ Maura Kye-Casella, Don Congdon Associates, Inc.
Editor ~ Michele Bidelspach, Editor, Hachette Book Group, Grand Central
Romantic Suspense:
Agent ~ Nalini Akolekar, Spencerhill Associates
Editor ~ Hai-Yen Mura, Manager, Editorial, Montlake Publishing
Young Adult/New Adult:
Agent ~ Kathleen Rushall, Marsal Lyons Literary Agency, LLC
Editor ~ Karen Chaplin, Editor, HarperCollins Children's Books
Best of the Best:
Overall contest winner receives $100!
Judge ~ Barbara Vey, Beyond Her Book blog, Publishers Weekly
So You Think You Can Write. Harlequin Writing Contest Details

Beginning September 23 you can submit the First Chapter (5000 words max) of your romance story plus a 100-Word Pitch to the series you have targeted. The pitch should outline the concept, plot, characters, conflict and setting. You must target one of our 20 eligible series.All First Chapter submissions will be posted for everyone to read and add comments in the space provided. Last day for submissions is October 9. Don't delay…submit your chapter right away so more people—including the editors–will see it!
2014 RWA Golden Heart Awards.
Please note the opening date for the Golden Heart is not posted yet. THE CONTEST WILL OPEN ONLINE OCTOBER 8.
This contest requires a full manuscript. There is no feedback. The Golden Heart contest is open to RWA members only. The entry fee is $50; entries must be submitted to RWA's contest site no later than 5 p.m. CT, Dec. 13, 2013. The Golden Heart contest is limited to 1,200 paid entries.
For the THIRD YEAR, Seekerville will again be offering entry fee reimbursement to the 2014 Golden Heart Awards. With a twist!~This year we are narrowing that to the Inspirational Category entry only in an effort to keep the category open. And we are offering TWO reimbursements of the entry fee.
This opportunity is open from the entry date through to the Golden Heart deadline.
Send proof of entry to the Seekerville email address (may send multiple proofs if you enter multiple times in the inspy category). Winner will be announced in January 2014.
Finally a Bride. Deadline October 15.
Participation is open to all unpublished authors of novel-length romance fiction. All work must be the author's original work, and cannot be contracted for publication prior to the entry deadline. Each manuscript must have finaled, but not won in a previous RWA or RWA chapter-sponsored contest. (Manuscripts which placed in the Top Quarter of the Golden Heart are also eligible.)Entry must be the first pages of your manuscript with the total entry no longer than 30 pages.
Young Adult
Malena Lott, Managing Editor, Buzz Books
Cindy Davis, Wild Rose Press
Contemporary Romance
Kathy Cottrell, Senior Editor, Wild Rose Press
Jewelann Cone, Cascade Literary Agency
Romantic Suspense
Johanna Melaragno, Wild Rose Press
Lori Graham, Senior Editor, Crimson, Wild Rose Press
Inspirational Romance
Nicola Martinez, Senior Editor, Pelican Books
TBA
Historical/Regency
Erin Molta, Entangled Publishing
Char Chaffin, Soul Mate Publishing
Paranormal/Time Travel/Futuristic/Fantasy
Claudia Fallon, Wild Rose Press
Michele Church, Wild Rose Press
Mainstream/Novel with Romantic Elements
Leanne Morgena, Wild Rose Press
TBA
Erotic Romance
Cheryl Yeko, Soul Mate Publishing
Sherry Derr-Wille, CAB, MELANGE, RISING PHOENIX, and SOLSTICE Publishing
"Finish the Da*n Book" Contest & The Rudy Award. Deadline October 31st.
Submit the first and last chapters of your unpublished 40K+ manuscript (no prologues or epilogues), plus a synopsis of the entire work that will not be judged. Total submission must not exceed 40 pages.

The contest is open to both published and unpublished authors,

although the work submitted must be unpublished AND remain unpublished or uncontracted until after the contest.First place Winners in each category will receive a Rudy Statuette and a check for $50.00.
Mainstream with romantic elements: Marie Lamba, Jennifer de Chiara Literary
Paranormal: Amanda Barnett, Wild Rose Press
Contemporary: Danielle Fine, Definition House
Historical: Jordy Albert, Booker Albert Literary Agency
Young Adult/New Adult: Deb Smith, Award-winning author and editor, Bell Books
Other Contests
Writing Contest in Honor of Elaine Kaufman. From now until October 15, 2013, writers can submit a short story, essay or novel excerpt to the Table 4 Writers Foundation's second annual writing competition. Ten dollar entry fee. (From GalleyCat)
Writers Digest Short Story Competition. Deadline November 15. Think you can write a winning story in less than 1,500 words? Enter the 14th Annual Writer's Digest Short Short Story Competition for your chance to win $3,000 in cash, get published in Writer's Digest magazine, and a paid trip to our ever-popular Writer's Digest Conference in New York City!
WOW: Women On Writing Fiction Quarterly Contest. Open September - November 30th, Midnight (Pacific Time). "WOW! hosts a (quarterly) writing contest every three months. The mission of this contest is to inspire creativity, communication, and well-rewarded recognition to contestants. The contest is open globally; age is of no matter; and entries must be in English. We are open to all styles of writing, although we do encourage you to take a close look at our guest judge for the season and the flavor of our sponsor, if you are serious about winning. We love creativity, originality, and light-hearted reads. That's not to say that our guest judge will feel the same... so go wild! Express yourself, and most of all, let's have some fun!"
Maximum: 750--Minimum: 250 The title is not to be counted in your word count. We use MS Word's word count to determine the submitted entry's word count.Open Prompt: Open to any style and genre. From horror to romance!
Entry Fee: $10.00 We are limiting the amount of entries to a maximum of 300 stories. Please enter early to ensure inclusion. If we reach 300 entries, we will disable the PayPal buttons.
Check out the great prizes, including cash! Final judge is Literary Agent Suzie Townsend.
Midlife Collage is looking for submissions in our free-entry contests. We run weekly, online writing contests for a cash prize. Perhaps you would be eligible and interested in submitting a short story. Please see our Submissions page for the guidelines and contest rules. U.S. citizens and legal residents age 40 and older may enter.

(LOVE THIS!!)
~~~
This month's Contest Diva is the amazing Nancy Connally
(known as CHILL N)
Contest Finals:
2013 Heart of the West; Finalist Historical; Winners announced October 12
2013 TARA; Third Place Historical
2011 Romance Through the Ages; First Place Colonial/Western/Civil War
2011 Gotcha!; First Place Historical
2008 Love, Texas Style Anthology; Third Place Contemporary
Why do I enter contests? I ask myself that when I gape at a judge's low scores. And then I go through my Six Steps of Low Score Recovery: outrage, discouragement, re-evaluation (you-know-they-might-have-a-point-here), refinement, submission to another contest … and excitement when—oh my stars!—the story finals.
You understand there can be a substantial gap in time between submitting to another contest and achieving a final, right?
But whenever I receive contest scores—low or high—I'm reminded that what I continue to learn from contests extends far beyond the craft.
• Contests help me learn from constructive criticism. Note that adjective. Constructive. Destructive criticism wants to wield power and show how much it knows. Constructive wants to help the story excel and share what it has learned. Contests have helped me discern the difference and consider the comments accordingly.
• Contests help me remember that three high scores accompanied by one score so far down in the pits I need a flashlight to read it can mean the low-score judge was having a bad day—but that low score can also mean the judge didn't care for the story. And the fact that one judge out of four didn't like the story is good news. No, really! If three judges give the story high scores, and one gives it the lowest score in the contest's history, then the story has a strong voice. Stay with me here. I enjoy reading Author A's books and I avoid reading Author B's books. Why? B's books are well written but don't appeal to me. But A's books have a voice I respond to. Even after judges' training, what one judge considers great conflict may strike another judge as inadequate. Three judges would read my story; one wouldn't. Not bad.
• Contests are just about as close to the publishing world as it gets. I finally entered a contest open to published authors. Why? Because those are the stories an agent or editor will consider my story alongside. Just as in judging, there will be an editor or agent who doesn't like the story and doesn't explain why. But there will also be an editor or agent who likes the story, wants to share her or his knowledge, and wants to help the story excel. Hopefully, what I continue to learn from contests will help me recognize, and accept, that gift.
Oh, and there's one more thing I learned about contests. When a Seeker offers a critique in a giveaway, throw your name in the draw. I'm convinced Seeker constructive criticism helped my historical win Third Place—competing with published authors—in the TARA.
~~~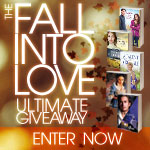 Seekerville is a sponsor of the Bethany House Fall Into Love Contest which ends October 1.
That's it for this month. Now go forth and contest.
Tina Radcliffe is a mild mannered hermit who writes Inspirational romance for Harlequin Love Inspired as Tina Radcliffe and romantic comedy as Tina Russo. You can find her at www.tinaradcliffe.com and www.tinarusso.com.
Her latest release from Love Inspired is Mending the Doctor's Heart. Her second Indie release, Love In Bloom: A collection of short romantic fiction, is available now on Amazon

and it's only .99.
This is the Vince Mooney recommended Amazon buy button.