This week, I was considering the need to de-clutter my house. Closets, drawers, entire rooms...
I even told my husband that I might need to downsize my library. (Gasp! I know!)
I have hundreds of books. A couple thousand, probably. And I'm always up for acquiring a few more, so pausing to think about which books I could 'do without' had me puzzled. How could I part with these stories...these AUTHORS...who had meant so much to me?
Obviously these aren't mine, because these
are in much too nice a condition. :)
How could I give away my Little House on the Prairie books? My copy of paperbacks is tattered from being read so often. If I was ever to give them up, it would be because I received a hard cover set with dust jackets.
Laura Ingalls Wilder influenced my writing by showing me that a little girl who once lived in Kansas could grow up to be a writer.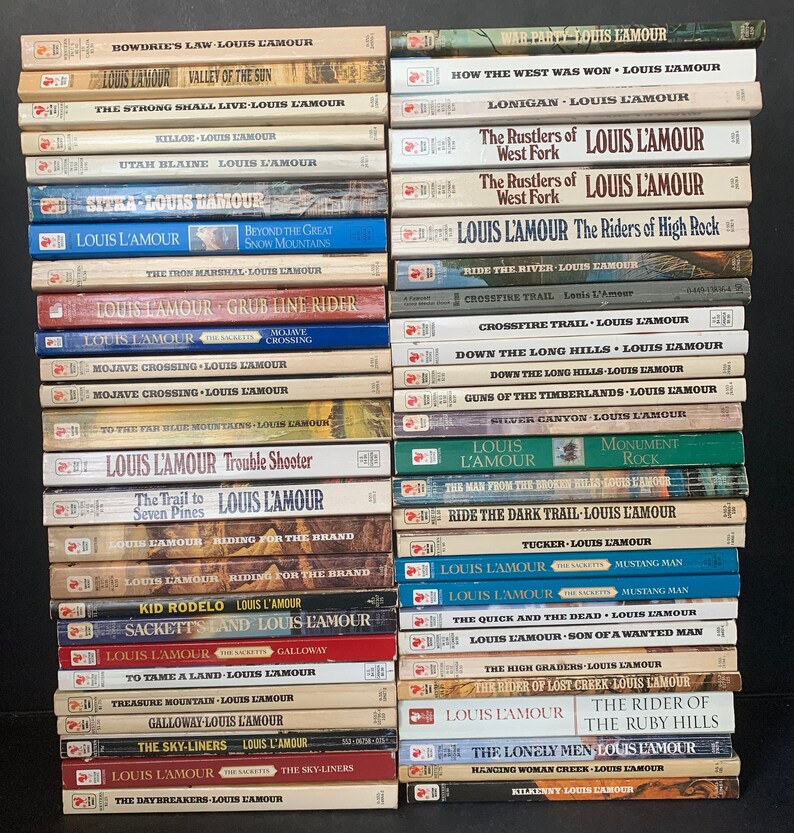 These are but a handful of L'Amour's many books.
What about my collection of Zane Grey and Louis L'Amour books? Could I shed a few of those? Um...no.
Louis L'Amour taught me about how to increase the tension in a story and never let up. Zane Grey taught me about description and about the "Code of the West" which is really just that right is right and wrong is wrong.
One of the most respected mystery/thriller writers ever!
Then there are the two entire shelves of Dick Francis books. Dick Francis was a British steeplechase jockey-turned-author who wrote amazing mysteries. He became the benchmark for fast-paced, detailed, and high-stakes mystery fiction, and he won too many awards to list here.
Dick Francis taught me about the power of first-person writing, compelling looks into worlds not my own, and the art of the TWIST ending! He also broke into my sheltered little world and showed me that people live by codes other than my own. He broadened my horizons and my mind.
The author who as influenced me the most!
Then there is Essie Summers. Essie is the author who has influenced me the most. She was a minister's wife in New Zealand, and one of Mills & Boon/Harlequin's first Rock Star authors. She sold millions of books worldwide from 1957 to 1997. She wrote in one of the dedications of her books that she had ceased responding to each and every bit of fan mail sent her way, because she realized if she stopped, she would have time to write a whole extra book a year, and she thought her readers would prefer that. What a professional!
Essie taught me that romance doesn't have to be steamy scenes. That family connections in fiction and cross-over characters are very appealing in fiction. That a story's setting can become a character in and of itself.
So, after perusing my bookshelves, I think I'll start the decluttering somewhere else. There's always the closet under the stairs, and that utensil drawer in the kitchen. :)
How about you? What authors have influenced you over the years? What are some books with which you could never willingly part?
He's doing what he can to save the Prince Regent's life . . . but can he save his new marriage as well?
Evan Eldridge never meant to be a war hero--he just wanted to fight Napoleon for the future of his country. And he certainly didn't think that saving the life of a peer would mean being made the Earl of Whitelock. But when the life you save is dear to the Prince Regent, things can change in a hurry.
Now Evan has a new title, a manor house in shambles, and a stranger for a bride, all thrust upon him by a grateful ruler. What he doesn't have are all his memories. Traumatized as a result of his wounds and bravery on the battlefield, Evan knows there's something he can't quite remember. It's important, dangerous--and if he doesn't recall it in time, will jeopardize not only his marriage but someone's very life.
Less than 90 days until release!!!
Available for pre-order now!!!
(<----- Click there!)
Best-selling, award-winning author Erica Vetsch loves Jesus, history, romance, and sports. She's a transplanted Kansan now living in Minnesota, and she is married to her total opposite and soul mate! When she's not writing fiction, she's planning her next trip to a history museum and cheering on her Kansas Jayhawks and New Zealand All Blacks. You can connect with her at her website,
www.ericavetsch.com

where you can read about her books and sign up for her newsletter, and you can find her online at

https://www.facebook.com/EricaVetschAuthor/

where she spends way too much time!